Reading Resources
1. Oxford Owl Online
This website does require parents to register but it is absolutely free to join. Once you are registered, you can access a library of free eBooks which children can read. There is a wide selection of books which are levelled according to bookband colours right through from Lilac to Dark Red, and there are games and activities to complete too.
2. Audible https://stories.audible.com/discovery
While schools are closed, Audible has made a wide selection of children's audiobooks completely free to stream and listen to. There are no accounts or passwords needed and titles are organised by age group.
3. The World of David Walliams – Elevenses
https://www.worldofdavidwalliams.com/elevenses/
Calling all David Walliams fans! This website is a MUST for you to check out! Every day, David reads from one of his books. At the moment, he is sharing the whole Fing audiobook for free. Don't worry if you have missed previous chapters as you can catch up on the website. Again, there is no need to sign up or create an account for this, and it is all absolutely free.
4. Harry Potter at Home
https://www.wizardingworld.com/collections/harry-potter-at-home
Explore the magical world of Hogwarts with this excellent website. Here, you can get sorted into your Hogwarts house, test your Harry potter knowledge in quizzes and learn how to play wizard's hangman.
For a different bedtime story read each night by lots of different familiar and famous faces, head over to the CBeebies website. There are even more bedtime stories available in the CBeebies Storytime app.
For fans of the How to Train Your Dragon series, author Cressida Cowell's YouTube channel is a fantastic place to check out. It features her sharing creative writing and drawing tips, as well as her reading aloud from chapters of her stories each day.
7. World Book Day website
This website is a great resource where children can listen to free audiobooks of current bestsellers, as well as play book themed games. It is all completely free and there is no sign-up required.
8.First News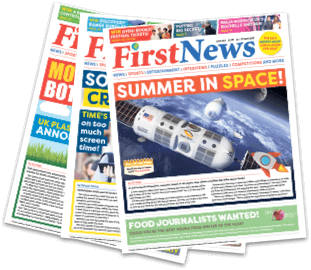 This is a weekly newspaper which is perfect for older children to help them stay informed with current affairs, sports and entertainment.
9. Reading Miles Global Challenge
https://literacytrust.org.uk/resources/reading-miles-global-challenge/
It's not that easy to travel at the moment but we are thinking about people all over the world. Why not read your way around the world with the Reading Miles Global Challenge.
Collect 500 reading miles for every 10 minutes you spend reading, either alone or with a parent, carer, or your brother or sister. You could even video call your relatives and read aloud to them. Collect reading miles in a special reading passport on your very own reading world tour – a whopping 33,000 miles (or 11 hours) in total!
This is an initiative from the National Literacy Trust to encourage children to read for pleasure regularly. Children can download and print off a world map charting the Reading Miles global challenge route, a passport to record the reading, postcards to complete when they reach checkpoint cities and a certificate for when the challenge is completed.
We would love to see your photographs of children reading and completing the global challenge! Please share them with us on Twitter or email them to us at office@thorpeprimary.co.uk.
10. Calling all J.K. Rowling Fans…!
Harry Potter author J.K Rowling has  shared a new fairytale and it is available to read online for free! This fairytale is not related to the Harry Potter series, however, I have had a read and it is great! It is called The Ickabog and it is perfect for KS2 readers and for parents to read aloud to KS1 children too! This is the link to the website and each day, J.K. Rowling shares new chapters, so get reading and let me know what you think.
Read the latest chapters here: https://www.theickabog.com/read-the-story/
There is also a drawing competition, as J.K. Rowling is looking for children to produce the pictures for the book when it is published later this year. For more details, check out the link below and get entering!
https://www.theickabog.com/competition/
11. The Book of Hopes edited by Katherine Rundell
This wonderful collection of short stories, poems, essays and pictures has contributions from more than 110 children's writers and illustrators, including Lauren Child, Anthony Horowitz, Greg James and Chris Smith, Michael Morpurgo, Liz Pichon, Axel Scheffler, Francesca Simon and Jacqueline Wilson. The collection is dedicated to the doctors, nurses, carers, porters, cleaners and everyone currently working in hospitals.
Read it for free here: https://literacytrust.org.uk/family-zone/9-12/book-hopes-for-children-during-lockdown/
12. Rain Before Rainbows by Smriti Halls and David Litchfield
This beautiful picture book, available as a free download or to buy, is perfect for all ages to enjoy and is an uplifting and magical tale with stunning illustrations.
Read it for free here: http://stayhome.walker.co.uk/rainbows/